FREE Guitar VST
There a ton of free VST plugins out there but when it comes to finding and using a guitar instrument plugin, it can be pretty challenging.
You see, Guitar as an instrument isn't very easy to convert to a virtual plugin as it basically loses a lot of the original characteristics of an actual guitar.
Yes, there are a lot of paid ones out there that match the real thing but free ones are out there too and won't be that great except for a very few free guitar VST plugins.
I've tried a lot of the Guitar VST plugins and watched a lot of videos online to put together the best free guitar VST instruments out there.
List of the Best Free Guitar VST Instrument Plugins:
The paid ones can be a little expensive but we got some of the best free ones for you to try before you make a purchase.
I will try to input my thought on what I think of these plugins and where available I will link a demo to the plugin. Feel free to try them out on your own.
Haunted Guitar Lite is a free VST Guitar Instrument that is created with a multi-sampled Fender Stratocaster Plus Deluxe Electric Guitar.
When you want to create that dark, vintage, and moody guitar tone, Haunted Guitar Lite comes in handy.
They have really nice presets that come with the plugin and by using the sustain, release, and LFO filters you can make this guitar sounding either artificial or a little natural.
Features:
8 Presets
224 Samples
HP/ LP Filters
High Quality
LFO Modulation
Filter type selector
Creepy and dark yet easy-to-use GUI.
VST supports Windows and Mac
Check out a little preview of how this sounds:
CLASSIC.GTr LITE is a free classical VST guitar plugin that has a very simple and sleek graphical user interface. It's plug and play.
This plugin has been sampled from a classical guitar and doesn't sound super realistic as compared to the others on this list.
You can obviously use this plugin to create a really nice dreamy or a retro effect. The sounds that come from this plugin can be perfect for even layering it under your tracks.
I personally used them on one of my EDM tracks and sounds great.
Features:
7 presets
301 Samples
LFO Modulation
Controlling Gain
LP/HP Filters
Windows/Mac
31bit/62bit
Almost in every one of the free VST plugin list, I can't seem to not list of the plugins from Spitfire because they are wonderful and has amazing plugins for free.
The sounds are premium. The guitars from Spitfire LABS is easy to install on your device and the plugins work within the Spitfire LABS's engine.
Spitfire LABS has a lot of wonderful free plugins ranging from piano, strings, synth, and much more.
The currently available guitars are:
Peel Guitar
Charango
Moon Guitar
Mandolin
Textural Pads
Guitar Harmonics
Lap Steel
I couldn't include all of the guitar's demo but check out the preview for "Peel Guitar":
Time to drop the bass guitar on the list. Ample Bass P Lite is a free Guitar VST plugin and a must try if you are looking for a bass VST guitar.
The thing I love about Ample products is that their instruments sound very realistic and especially their guitars. If I have to invest in and buy a premium one then It would the premium version of this.
Coming back to Ample Bass P Lite, it is very popular among producers as the sounds that come out of it are very natural.
You can humanize the guitar sounds with effects such as fingering, hammering, and sliding.
Features:
Realistic Fingering Noise
Sustain, Hammer, and Accent Controls
Capo Logic
Easy to use
Great sound quality
Supports both macOS and Windows 7/8/10 (only 64bit)
Just like the Ample Bass, this is the acoustic version of that. Ample Guitar M Lite II has a wonderful sound quality.
This is one of the free Guitar VST that you shouldn't miss out on. When I first tried this plugin, I was pretty surprised that it had features such as legato, slide, string tuner, and capo logic.
You can use those to literally mimic the real thing and you won't even be able to tell the difference if you know how to do it.
Features:
MIDI Support
Supports both macOS and Windows
Easy to use
Great sound quality
Sonic Imperfections
Legato, Slide, Capo Logic, and Doubler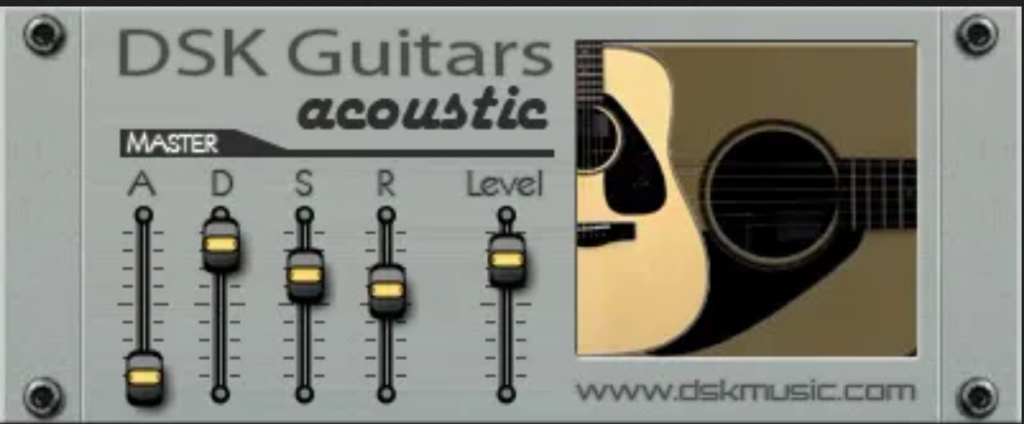 DSK Guitars are one of the rarest kind and it's simple and does the job. This plugin is sampled from a acoustic guitar / folk guitar.
It has a very simple GUI and sounds clean. I will have to warn you though, it's only available for Windows 32bit.
Even though it looks pretty simple the sound it produces isn't and it's worth checking out. Because it's very light and uses less CPU and it's completely FREE makes it pretty cool.
Another free guitar VST plugin that's very light weight and available for macOS and Windows. This guitar plugin is sampled from Epiphone SG electric guitar.
This doesn't sound great right off the bat but if you add in some effects or an amp then you can surely make it sound good.
You could probably use this plugin to create some cool riffs or even guitar sounds effects but make sure to run it through some effects plugins.
Native Instruments is one of the leaders when it comes to the library of instruments and Kontakt Start is one of their free libraries with over 18 different instruments and effects.
When you download the library you will get something called "BAND" which includes a lot of instruments and you will find the guitars in it.
Kontakt Start is not just a free guitar VST but an entire library of instruments with over 6 GB of files in it.
Yes, you will have to download the entire library to access the guitar but the best part is there is also a Guitar AMP in it which will come in handy when you are using the e-guitars.
It's better to have a big library of instruments, effects, and loops at your disposal than just having one VST.
This free guitar VST is a gem and is been out there for a very long time. DSK offers more than just guitars and you should check them out when you can.
The plugin has three different types of guitars… Acoustic Guitar, Nylon Guitar, and Steel Guitar. Even though the plugin looks pretty simple, it comes with all the useful knobs needed.
With a bit of built-in reverb, sustain, range, and level you can extract some really decent sounding guitar tones from it.
As time goes by, if I find some really worthy free guitar VST then I will add it to this list and keep it updated for you.
Check out: 11 Best Free Reverb Plugins in 2021