"Where are the best free Bass VST Plugins?"
Well, you've come to the right place,
It is always great to add free bass VST plugins to your collection. As a producer you will eventually expand your tool-kit with some great sounding bass VST plugins.
You don't always need to buy some expensive bass plugins as there are amazing free ones that you need to check our today!
Table of content
There are lots of producers in the industry who uses free VST plugins to produce their hits. So, it's never an excuse for you and I to not do that.
Let's begin, here are the best free bass VST plugins I've tried and picked them!
1. TAL-Bassline
TAL-Bassline is a simple bass plugin that is specifically made to meet producer's low-end frequency needs. This free plugin also comes with 23 built-in presets.
This plugin has a great sound quality and uses analog sounds. TAL-Bassline creates a very warmth sounds right off the bat.
The plugin is based on a robust core and has all the usual controls of an analogue synth.
2. Ample Bass P Lite II
Ample Bass P Lite II is a realistic-sounding bass guitar plugin. The lite version of this plugin is perfect suited to get a humanized tone on your tracks.
If you are looking for a free bass guitar VST plugin then Ample Bass P Lite II should be your first try. The accent, hammer, sliding, and fingering make it sound even more realistic than it is.
Fortunately, this plugin supports both mac and windows. The plugin is easy to install and you can start playing with it right off the bat. If you are planning to make a purchase for a bass VST plugin then, please give this a go before you do so.
3. Monique
Monique is a bass and lead plugin that is created by Monoplugs. This plugin isn't just a bass plugin but it can also produce some aggressive sounding leads.
Even though this is more of a synth plugin, this is perfect to create those warm and deep sounding basses. The plugin has a lot of control.
This free bass VST plugin comes with a feature called "Monique Morphing", which is a unique morphing feature that gives you the ability to create eight different programs on the plugin.
Features:
Free filter – Routing
Automation and Modulation
Built-in Effects
Arp
Windows OS, Mac OSX and Linux OS
4. Synsonic BD-808
BD-808 is a great bass VST plugin that specialises in creating very warm 808 drum sounds. If you are looking to create some orgiginal BASS 808s then you should really play around with this plugin.
This isn't just an 808 drum plugin, with the help of MIDI you can use this as an BASS synthesizer.
From their official website, below are some of it's parameters:
Accent: Strength of the drum sound
Level: Output level
Decay: Duration of the drum sound
Tone: Amount of attack-click
Tune: Tuning in halftones
Fine: Tuning in cents
LongDecay: Extends decay range
MidiSync-Tune: Tune depends on played Midi-Note
MidiSync-Accent: Accent depends on Velocity of played Midi-Note
Demo
Download from the official site
5. Subdivine Lite
Subdivine LITE is a limited free version of the Subdivine plugin. This plugin is a beautiful VST plugin that comes with a bunch of very useful presets.
This is a 808 Sub type of plugin that you can use as a 808 drum machine or create some creative synth sounds from this one.
This plugin has a really cool features such as overdrive and pitch bend. For a free plugin this comes with 2 octaves which is not bad at all.
If you are interested in the paid version and looking to buy it then, you can try it with this plugin.
Download from the official website
6. Tyrell N6
Tyrell N6 by u-he is a Free Bass VST plugin that is truly a blessing and a synth that you should have in your toolkit.
When you start to use this plugin, you won't really believe why it's given out for free. It sounds great and looks great too.
A pretty compact synth that can compare to premium synth plugins. You can create wonderful sounds and the sounds can be manipulated to a great extent with the provided knobs.
Features:
Comes with over 580 presets.
2 OSC
Ring Modulator
2 LFO & 8 different waveforms
ADSR Controls.
Easy to use
Compatibility: macOS, Windows, and Linux
Download:
7. Vital
Vital is an extremely powerful synthesizer that can help you create absolutely stunning and unique sounds. The clean user interface and the perfect tools that comes with it can help you to make crazy bass sounds with it.
The reason this is on this list is because, all other VSTs here are made mostly for bass and every producer will have it. Create a bass out of Vital will set you apart from all of the general sounds.
Download Vital from the author
8. XSUB 808
This a free Bass VST Synth, the plugin has 2 oscillators and each of them containing 4 waveform. It is aparently modeled after the Clavia Nord Lead 2 Red Synth.
The plugin is available for both MacOS and Windows, there are a lot of controls on the plugin which are fairly easy to use and can be used to producer variety of sounds.
For a free plugin, this does contain a lot of settings but don't be overwhelmed with that as you will be able to figure it out with a little bit of playing around.
Download from the official site
9. Steinberg – Model E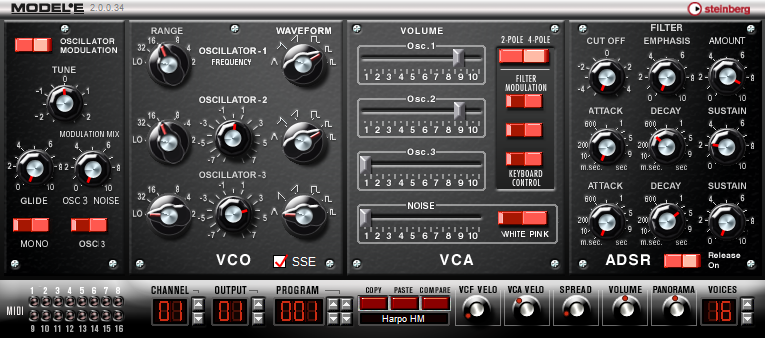 Steinberg – Model E is a one of the oldest free bass VST plugin that is still producers favorite plugin. This plugin is discontinued by Steinberg but you can still get it and use it.
The Steinberg – Model E brings you some warm 80s sounding bass as well as be able to create sound newer sounding bass.
The plugin supports Mac OS and windows and comes with the ability to work with 16 channels at the same time. Easy to use and has decent controls.
Download from Steinberg's website
10. TAL – Elek7ro
TAL-Elek7ro is a super cool virtual analog plugin that is completely free and comes with a very neat looking UI. The developer is TAL Software. This Free Synth also contains really unique presets such as Pads, Leads, and Bass, etc.

Features of the plugin:
Oscillator Hard Sync
Easy frequency modulation
Alias Free Oscillators
Mod-wheel and Pitch-Wheel support.
1 sub oscillator (saw, rectangle).
2 oscillators with hard-sync, PW and FM (saw, pulse, triangle, sine).
And much more.
Requirements:
Windows XP or higher (32 / 64 bit)
OSX 10.6 and < 10.10 (32 bit Host).
11. Monster BASS by Monster DAW
Many of you might know Monster DAW, they have just released a crazy Bass plugin called Monster Bass and we are loving it!
It's basically a free Bass VST plugin that has 3 categories of sound, Synth Bass, Electric Bass, and Acoustic Bass. So, you can use it in any kind of music that you like or create.
Monster DAW says that Monster BASS is an ROMpler VST, and they explain that it means that it is a simple plugin that works as a sampler without too many complicated parameters.
The plugin is pretty lightweight and doesn't take up so much load on your device. The plugin itself sounds wonderful and real like.
Usually when I download a plugin I end up taking sometime to understand how it works but this one was right off the bat easy to use.
Conclusion
The above are some of the best free bass VST plugins that I have found and tried it. Most of the plugins you see on this list is what I use to create some great sounding bass.
I hope this provides some value and helps you on you producing journey.
Thanks for your time.