Autotune is a must for most producers these days and everybody has some sort of pitch correction software built into their DAW. You might either use the Autotune for the actual T-Pain effect or for an extensive pitch correction.
Not all free pitch correction plugin is amazing but the ones in this list are the ones that I've tried and used. I have also gotten the opinions of my fellow producers who have used some of these.
Best Free Autotune Plugins:
MAutoPitch
Graillon 2
Gsnap
Autotalent
KeroVee
Voloco
Autotune Evo
Scroll down to see more about these plugins.
MAutoPitch by Meldaproduction is a free autotune or pitch correction plugin that does the regular pitch correction in your vocals or any instruments. Aside from the autotune feature this plugin also can perform format shift and stereo-expansion.
This plugin might be free but it does have a lot of wonderful features. Regardless of what you want to achieve with this plugin, you can do everything that a paid autotune VST can.
If you are planning to buy a paid one, I would suggest you give this a try before you make the decision.
Check Out: Free VST Plugins
Features:
Lifetime Updates
Extensive Features
Format Shifter
Stereo-Expansion
Automatic Tuning
Built-in Effects
Supports Windows & Mac
Graillon 2 – Windows/macOS/Linux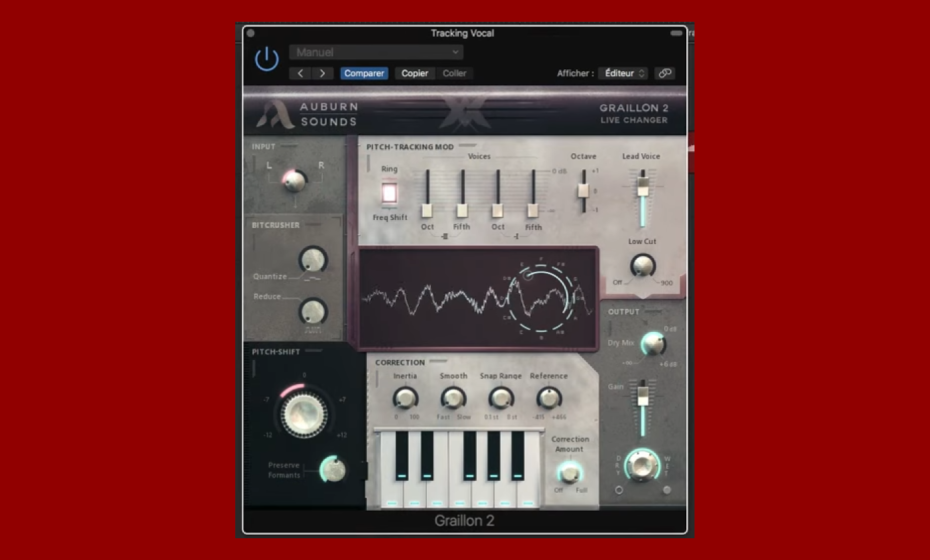 Graillon 2 Free is a free pitch-correction plugin with Pitch Tracking Modulation that has the ability to support live autotune performance. This plugin can help you create chorus, vocal doublers, makes vocals masculine, transpose vocals up or down, and also has a Bitcrusher feature.
Graillion 2 is a free plugin and has a lot of features, if you like it then consider purchasing the full version from the original creator.
Also Check: Free VST Plugins
Features:-
Supports macOS, Windows, and Linux.
Available as VST / VST3 / AU / AAX / LV2.
Bitcrusher.
Pitch Tracking Modulation
Ability to perform live.
Easy to install
Gsnap – Windows Only
GSnap is a Free VST Plugin that has a simple user interface with the required features of a pitch correction plugin. Gsnap is one of the coolest pitch correction plugins mainly because of the MIDI feature it brings to the table.
You can draw out the MIDI notes for a vocal performance so that the singer never goes away from the actual notes of the melody.
If you do not want to draw out the MIDI, you can simply set the plugin to the key of the song and correct the pitches from the plugin.
Features:
MIDI control.
Correction: Threshold, amount, attack, and release.
Vibrato, Pitch bend, Vibrato speed, and calibrate.
Windows only.
Autotalent by Oli Larkin and Tom Baran is a free pitch-correction VST plugin. It is pretty straight forward and doesn't have so many features but does the job. You set your scale for the vocals and let the vocal pass through the plugin with an autotuned effect.
It can produce a subtle autotune effect to a chipmunk effect. I tried this plugin, it's pretty good for a free plugin but doesn't produce a great quality sound.
If you are just playing around or want to achieve a different kinda effect on the vocals then it's a good plugin. If you are like me and would want a plugin that actually has great quality and it's free then check out MAutoPitch.
Features:
Easy to use
Supports only Linux
Real-time Pitch Correction
Can also be used as a Pitch Shifter
KeroVee is a free autotune VST plugin that supports only Windows. One of the main features of this plugin is that you can use MIDI to guide your vocals to tune in to the exact key you want.
The unique feature of this plugin is called "nuance" which basically gives an option whether you want to keep the vocal's natural vibrato or not.
KeroVee has a visual representation of the output which makes it easier for you to see while you tune. You can achieve a robotic sound or even a subtle autotune effect with this plugin.
Features:
Supports MIDI to guide your tuning.
Works on for Windows
Easy to install
Pitch correction
Vibrato Settings
Voloco – Windows/macOS
Voloco is a free VST plugin that comes with just 6 presets but you will be able to control the key, scale, and pitch correction. Apparently, this is made especially for creative use and if you are looking for some creative effects on your vocals then you should get this plugin.
The pro version of this plugin is still under development and this is the reason they have a free version out to try out with limited features.
Features:-
6 Presets
Control Scale, key, and pitch correction
Easy to use
Easy to install
Supports Windows and macOS
Autotune Evo is one of the best in the industry of autotune and pitch correction. Massive studios to home studios almost everybody uses these and it's for a good reason as this is a pretty powerful plugin.
Autotune Evo is great for Vocals but will also work flawlessly for monophonic instruments. The plugin has a wide variety of features and can be used for real-time pitch correction or even to correct pitch in a track.
The plugin has the ability to just be used for a creative effect or even extensive correction of vocals. This plugin has a pro version that is even cooler than this but for this free version, there are no complaints.
Features:
Available for Windows only.
Free and easy to install
Choose Vocal type: Alto, Tenor, etc…
Automatic Mode and Graphical Mode.
So What's the best free autotune VST?
In my opinion, the best ones from the list are MAudioPitch, Gsnap, and Autotune Evo. Especially the sound quality that these three plugins produce.
Conclusion
You don't need to spend a huge amount of money on a really good pitch correction plugin as most of them are free. You can try out all of the ones in this list to see what fits you better.
Each plugin has its own sound type and features, what works for you might be different from what works for me.
Happy music making 🙂