Skrillex is one of the greatest artists of our times and his style and uniqueness will always be remembered. It was pretty fascinating for me to write this article as I learned a lot of things from just quick research on Skrillex.
So, What software and gears do Skrillex use? I am going to list it down for you from whatever he has publically gave out. Below each of the mentioned items, there will be a source for it.
As a producer, Skrillex uses Ableton Live with a couple of plugins and VSTs with it. Some of the plugins are Sylenth, Serum, Native Instruments Massive, IZotope Ozone, Waves plugins, etc.
What DAW Does Skrillex use?
Skrillex uses Ableton Live for his music producing and also uses it for their live performances.
Most producers these days don't settle with just one and that is because as an artist you need to be free to use whatever tools that helps you translate your ideas into music. Even though Skrillex's main DAW is Ableton live he also uses.
He's known to use the following DAW:
Ableton Live
Avid Pro Tools
Propellerhead Reason
What Plugins or VST does Skrillex Use?
I am going to be listing down all the Effects, Compressors and Synths that are known to be used by Skrillex.
Native Instruments
Native Instruments' Massive comes with over 1,300 inbuilt presets and it can be played in the studio or on the stage. Skrillex uses the Massive plugin to create bass music, electro, and dance music.
Massive is also super popular with other mainstream artists and if you are into making Skrillex sounding music then give this plugin a go.
In the below Vine video, Skrillex is seen using Ableton and had used the hashtags #ableton & #massive.
Click here to check out Massive
FM8 Synth
FM8 is a beautiful plugin that comes with over 900+ Classic FM Sounds, FM Matrix, Arpeggiators, etc. This FM Synth is very clean and elegant to use.
FM8 Synth is one of the favorite plugins for Skrillex. In an interview with Music Radar, He said the below…
Sylenth1
Sylenth1 is a frequently used plugin by Skrillex and also a personal favorite of mine. It comes with an easy yet powerful setting and the default library is perfect and you can create almost any sound with it.
There also other Sylenth1 libraries you can download for it. It's all about creating and manipulating the sounds like Skrillex by using EQ, Reverb, Filters, etc.
Read – Plugins used by Martin Garrix
Tone2 Gladiator 2 Software Synthesizer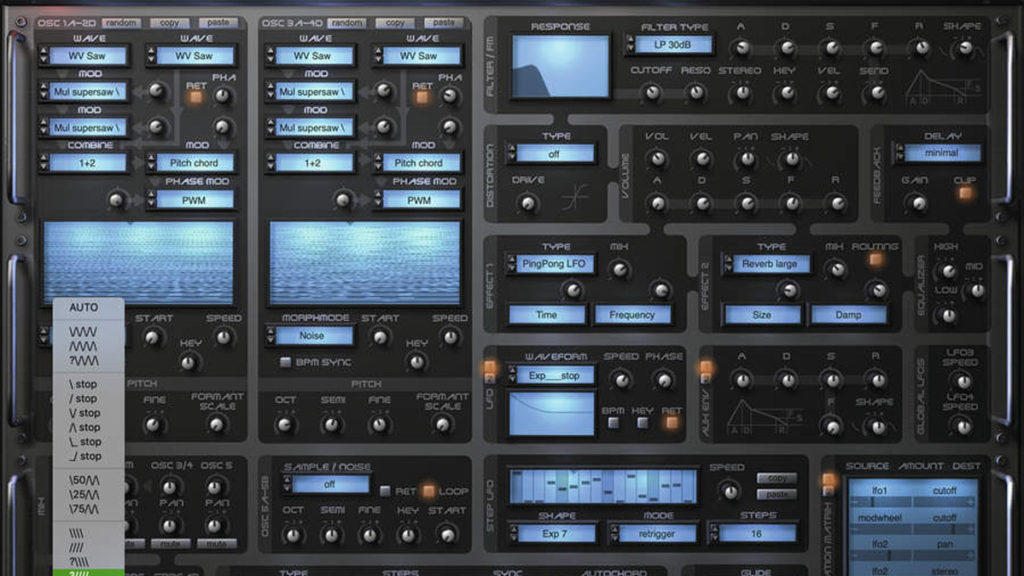 The Tone2 is also one the Skrillex's list and it comes with a huge collection of rich sounds. Easy to use interface. Skrillex once tweeted about this.
@nynex Ableton Live and most of my go to VI's are pretty standard.. Massive, FM8, Sylenth1,Vanguard,Pro53, Gladiator. Nothing too fancy

— Skrillex (@Skrillex) September 27, 2010
Click here to get this plugin.
Xfer Serum
One of my other favorite plugin which is also on Skrillex's toolkit. The serum has crazy sounds and wonderful settings to play around with. Especially if you are into Dubstep then get this plugin.
The serum has a wide variety of sounds and also a huge bunch of libraries available online. He also mentioned it in his tweets that He uses Serum.
Celemony Melodyne
Melodyne is a pitch correction software almost used by the majority of producers and artists. The vocals are easier to correct with Melodyne rather than autotune.
All those crazy vocals sound that you find on Skrillex's track, it's highly possible that Melodyne is used.
Ohmicide
Ohmicide is claimed to be the best distortion plugin in the world. Skrillex says it's an amazing multiband distortion compressor. The price isn't so high for an industry-standard plugin.
Waves CLA Vocals
Waves have an amazing plugin and Skrillex is known to use the CLA Vocals plugin. Waves' CLA Vocal is something even I've used it and it's mind-blowing.
They have a wide range of settings with easy to use interface. The sound quality after the effects is pretty rich and crispy.
iZotope Trash2
Trash 2 from iZotope is another distortion plugin that Skrillex uses alongside Ohmicide. This allows you to get that dirty and powerful song.
Click here to get the plugin.




ReFx Nexus 2
Nexus is one of the most powerful synths on earth. Martin Garrix, Alan Walker, and all of them seem to have this in their toolkit.
The plugin is lightweight and Skrillex gets few of his sounds from this but he obviously makes it unique to his style. Regardless of the default libraries sounding good. Skrillex is all about tweaking and manipulating sounds.
Click here to get the plugin.
What Laptop Does Skrillex Use?
For his music producing Skrillex uses Apple MacBook Pro equipped with Ableton Live and Native Instruments.
On his interview, Skrillex speaks about his hardware, check it out.
MacBooks are some of the greatest Laptops when it comes to creating creative stuff. These days you can get them at a very reasonable price.
What Headphones Does Skrillex Use?
Audio-Technica ATH-M50
In the video of "Beaking a sweat", you can see the ATH-M50 headphones at around 4:55.
Skrillex probably uses a lot of headphones but I am picking the one headphones I think it's worth a mention.
Conclusion
Regardless of whatever plugin or effects Skrillex uses. End of the day, it's all about making it sound unique to yourself.
You do not need to copy what Skrillex does but this post is just to educate and make new producers understand what Skrillex uses.
Also read – Plugins used by Alan Walker