After trying a lot of synths, I have come up with the 10 Best Free VST Synths of 2021. There are obviously a lot of premium ones out there that you see a lot of producers use. You don't need them to create some wonderful-sounding synths.
If you are a commercial producer, it is always a best practice to use the free versions of the VST Synths rather than falling for any cracked ones.
Keep in mind that these synths are universal meaning you can use them in any genre of music and it's totally up to you on how you want to use these.
Why you should use free VST Synths?
As producers, most tend to think that paid plugins provide much better sounds than free ones. That is far from the truth as the free plugins can give you some unique and creative sounds that the paid ones might not.
Apart from that. before making a purchase of premium plugins, it's always better to know what you are looking for and what suits you the best, this will help you from not breaking your wallet.
Having said that, let's begin…
Best Free VST Synths:
Below are some of the best free VST Synths that are in my opinion a must-try. Keep in mind that these plugins are not on order.
1. Surge
Surge by Vember Audio used to be a paid plugin but now they have made it completely free to use and also made it open-source.
Surge is an award-winning plugin and even though it's been out in the market, not many people actually know about it. It's a plugin that you must have or at least give it a try.
This plugin comes with three oscillators each with 12 versatile oscillator algorithms. The classic oscillators provide a pulse, saw, or dual sub-oscillator.
The features packed synth comes with a great design and user interface. This has to be on the list because this is one of those synths that gives you a lot of control and can help you produce any high-quality sounds.
2. Vital
I can't stop talking about Vital, this is one of the best free VST synths that has come recently. With the broad list of features, this plugin comes with and also the fact this is free, it's pretty priceless to say.
There is also a paid version of this plugin, so this is freeware that comes with 75 presets and about 25 wavetables. Vital is an extremely powerful synthesizer that can help you create absolutely stunning and unique sounds.
The clean user interface and the perfect tools that come with it can help you to make crazy bass sounds with it. Vital has a unique feature called pitch-splice which has the ability to turn text into wavetables.
It is very smooth but might consume a good amount of CPU, other than that this is by far one of the best free Synths to try out.
Download from the official site
3. Monique Bass Synth
To simply put, this plugin shouldn't really be free but fortunately, it is a free plugin that you can download and use. The plugin is specifically made for deep and hard basslines.
Monique Bass Synth has 3 OSC and each of its filters can be controlled separately. The plugin also has its own EQ section, reverb, and a bunch of effects.
If you are not into presets and like to customize every sound that you create, then Monique Bass Synth offers the ability to tweak sounds to match your style.
4. Dexed
Dexed is one of the most popular yet free plugins on the market. The developers of this plugin have modeled after the Yamaha DX7 and when you use this plugin you will see it for yourself.
When I first used this plugin, what surprised me the most was the sound quality that this plugin was able to produce.
If you are looking for that synth that can do both vintage sounds and as well as modern ones then this is your go-to plugin. Because of all the vintage DX7 presets it comes with.
You can also find a lot of free presets for this online or you can also create your own sounds with the toolkit this plugin comes with.
5. Tyrell N6
Tyrell N6 by u-he is a free VST Synth plugin that is truly a blessing and a synth that you should have in your toolkit.
When you start to use this plugin, you won't really believe why it's given out for free. It sounds great and looks great too.
A pretty compact synth that can compare to premium synth plugins. You can create wonderful sounds and the sounds can be manipulated to a great extent with the provided knobs.
6. Synth1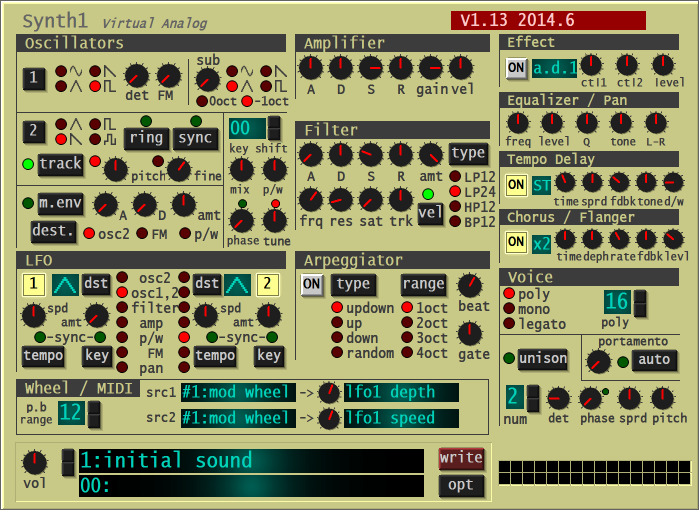 Now we have Synth1, this is a really classic Synth and it's been on the market for a very long time. This plugin is so lightweight it can also run on a broken old PC.
So, in case you have a pretty low-end system and want to still create some great-sounding sounds, this is a wonderful fit for it. The plugin has some really vintage-sounding presets as well as gives you the 80s vibe.
Even by looking at the picture above, you can tell how old this plugin looks and there is a good reason for it, as it was developed long ago and you are seeing it on this list is because it's still being used by a lot of producers.
If you are completely new to the synthesizer scene Synth1 is the best place to start but if you are an intermediate or an advanced producer then there are a ton of patches available on the internet for this.
This plugin is a classic and that is one of the main reasons it makes it to the best free VST synths list.
7. Helm
Helm is like the stripped-down version of Vital, this plugin basically runs on anything by that I mean on any PC and it even supports Linux.
If you are a beginner and the other synths seem to be pretty overwhelming then just get Helm and practice your basics. It has stutter, format, delay, reverb, and also distortion functions hence making the list of best free VST Synths.
This is open-source software, you're even allowed to study its source code. modify and do whatever you want with it. For a free plugin with these many features, this gotta be on the list.
8. PG-8X
The PG-8X is a Free VST Synth that has its user interface modeled after the PG-800, that is why it gives off a very retro or vintage-looking vibe.
If you are looking to create some retro songs or want some vintage-like synth sounds then go download this plugin right away.
This is a virtual analog synthesizer and if you're a fan of it then download it right away. I actually use this when I want to bring in the retro vibes.
9. Pendulate
This is kinda a new one on the market, this is a really simple synth from Newfangled Audio. The user interface is very easy to work with and pretty straightforward.
This plugin also has a premium one called Generate which is much more complex. This plugin is perfect for making things like cinematic trailers, or even sound designs.
Really fun to play with if you are looking to do a background score or even add some sort of sound on your track to give it some depth.
10. Odin 2
Finally, we have the Odin 2, which is still not a completed product but it is very cool to use as the features it comes with such as drawing oscillator.
Even mentioned on their website this has "Earth-shattering basses, exquisite leads or mad FX" and I personally love the design it has.
This plugin supports Windows, macOS, and Linux. It has about 5 onboarding effects that include modulation and contains the ability to tweak your sounds to the next level.
Conclusion
The above plugins are completely based on my opinion and you might like something that I don't and it's okay. If you think there should be more of these free plugins that should go in the list, contact me and I will add it.
Feel free to check out: