Charlie Puth is a pop music producer, artist, singer & songwriter. Charlie has a lot of great hits and has written songs for a lot of mainstream artists. He rose to fame when the song "See you again" took over the music industry for quite a while.
The fascinating thing about Charlie Puth is that he also produces his own songs and he makes hits. I have always admired the fact that though he isn't a full-time producer per se, he still pulls off hits with what he knows.
Charlie Puth has perfect pitch, meaning he can guess the exact key of a sound when played. Maybe having the pitch-perfect ability helps him with the producing or it doesn't I am more interested in his production tools and software. I have listed down some of the things people are looking to find about him. So, keep reading to find out and get inspired.
What DAW Does Charlie Puth Use?
Pro Tools is the primary DAW Software that Charlie Puth uses for producing his records. He records, composes, and masters the tracks with Pro Tools.
Avid Pro Tools can be seen used by the biggest music studios in the industry as it is equipped with the best tools required. If you have never checked it out, there is also a free version available for you to try out. Click here to get Pro Tools for free.
What VST Plugins Does Charlie Puth Use?
Charlie Puth uses a variety of plugins but most of the VSTs aren't much of the effects but instruments. Other EDM artist such as David Guetta, Deadmau5 and Martin Garrix uses a lot of Instruments as they aren't a big player of real instruments.
Native Instruments – Kontakt 5
The greatest player that has 1000s of presets and library is amazing. Charlie used these for making his track Attention. Charlie is an amazing keyboard player so, using this library helps his creative sounds with this.
Waves – CLA Bass
CLA Bass plugin from waves isn't a Bass plugin but an effect plugin for Bass. You can tweak these settings to manipulate the bass sounds of your actual bass. For example, He has put this plugin on top of the Trillian Bass plugin on the track Attention.
Waves – Renaissance Reverb
Renaissance Reverb or Rverb is a pretty powerful reverb that Charlie Puth uses on his drums and percussion. His reverb choices are pretty unique yet very cool. If you are interested in Waves, then you should check out Waves Bundle.
Waves – OneKnob
Waves OneKnob Pumper emulates a side-chain compressor. OneKnob Pumper creates a ducking effect. You can see Charlie Puth uses the OneKnob Pumper on his track on the video.
Antares – Auto-Tune
AutoTune is used by almost every producer these days. In his older videos, He said that he learned how to sing using the AutoTune plugin. That is one of the ways to use it but I am not sure if he uses AutoTune for pitch correction on his tracks.
Waves – CLA-76 Compressor
Waves CLA-76 is made after the mid-60Class A-line limiting amplifier. In a Facebook video called "How I Made Attention", Charlie uses this plugin on the vocals. You can use this plugin on drums, vocals, guitar, and other sounds as well.
Addictive Keys: Electric Grand
Addictive Keys makes one of the best sounding instruments that there is. They make a lot of amazing plugins and one of my favorites in the electric grand. Charlie has some unique sounding keys in his tracks and one of the sounds comes from this plugin.
Charlie used this plugin for the album Voicenotes. You can see it on his computer in the below video.
Kontakt Library – Scarbee Mark-1
Rhodes piano sound is pretty hard to find in a plugin. You don't need to get the actual Rhodes Piano for it but you can use this high-quality library to get the same sound. Rhodes is almost everybody's favorite sound, it sounds very angelic.
In the same Facebook video "How I Made Attention", you can see him using this on his screen.
Spectrasonics – Keyscape plugin
Keyscape from Spectrasonics contains the largest virtual keyboards in the world. They have everything from vintage to modern sounds. Charlie probably uses quite a lot of these sounds in the tracks. You can check it out in the below video. Check out Keyscape.
Guitar Rig Pro

Guitar Rig Pro is an amp-simulator with a multi-effects rack. Guitar Rig Pro comes with over 68 effects and tools and you can use them in vocals, guitars, drums, piano, or in any other sounds. You can watch the video below where he talks about a preset used in the song "Mother".
Native Instruments – The Giant
The Giant is a virtual upright piano that is modeled after the Klavins Piano Model 370i. This piano has such a warm vibe to it that you can actually use it in any genre you like and make it sound extremely good. You should actually go and check out the demo of The Giant.
In the Facebook video of "How I made attention", this plugin can be seen on his PC.
Native Instruments – DrumLab.
Another Plugin that Charlie Puth uses is the Native Instruments – DrumLab, it's very hard to get the drums right in your tracks, especially in pop music. In EDM you can get away with it cause it's going to be electronic drums. In the tracks that Charlie Puth makes, you have to have the drums on point.
What Headphones Does Charlie Puth Use?
Charlie Puth isn't a DJ and because of that, he doesn't have a huge collection of Headphones like the other mainstream DJs. I did find a few more online that he uses but I am keeping the most relevant ones on the list for you.
Audio-Technica ATH-M50x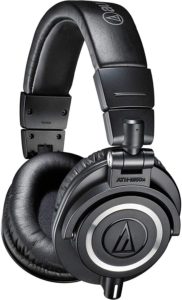 This headphone is pretty affordable but I am not too sure if he uses this to produce but I am sure he uses a studio monitor for it
You can see Charlie Puth using the Audio-Technica ATH-M50x. Check price on Amazon.
Sennheiser HD 650 Headphones
This is most likely what he uses for his home recording. HD 650 headphones have an Improved frequency response of 10 39,500 Hertz ( 10 dB) for rich sound. The coolest part is that for maximum efficiency it has high power neodymium magnets.
What Keyboard or Synth Does Charlie Puth Use?
[wpdatatable id=9]
Charlie Puth Studio Monitors
KRK ROKIT 5 G3 Studio Monitor
You can see the KRK ROKIT 5 Studio Monitor in the famous Attention breakdown video and many other videos of him. This is a very powerful monitor for a home recording studio and something you should check out if you are into home recording.
What Microphone Does Charlie Puth Use?
Blue Kiwi
Blue Kiwi is the more expensive version of Bluebird and Charlie seems to be using this for recording. In a Facebook Video he posted, you can see the blue kiwi microphone.
Conclusion
So, that sums up most of the things that Charlie Puth uses. I will keep the articles updated as I find more. Feel free to read about other artists if you are interested.